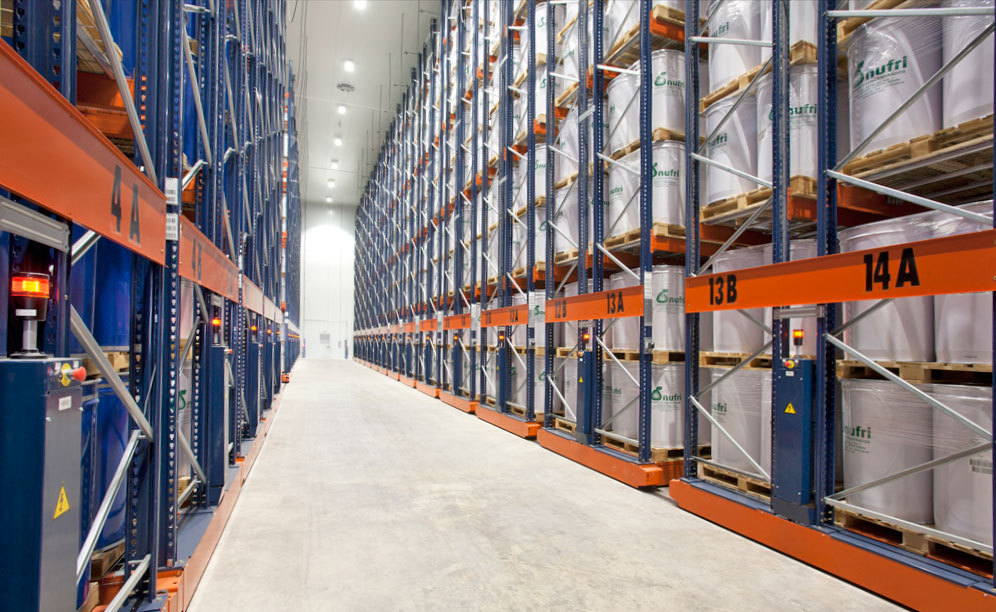 How to store 11,000 pallets of unusual dimensions in 4,400 m² thanks to the mobile racking from Mecalux
The company Nufri kits out its new warehouse with Movirack

For more than 40 years Nufri has worked in the horticulture industry, offering quality products and a wide range of services. Each year it handles more than 400,000 tonnes of fresh and processed raw material, which it sells in more than 40 countries. Since the produce is fresh, Nufri needs cutting edge technology in its installations to guarantee the traceability, preservation and quality of their fresh and processed fruit.
The Customer's Needs
The Nufri Group is a group working in the horticulture industry that was founded in 1973 with the intention of providing services to farmers in the Pla de Urgell region of Lleida, Spain. Since then, it has expanded its business areas and its current focus is on the production, storage, preservation and sale of fresh fruit and juice, fruit concentrates and purées, and preserving food products in cold stores.
The majority of the group's business is generated by the division dedicated to producing juices, concentrates and purées, whose clients include major juice and soft drink brands. Due to the increase of these kinds of products, at the beginning of 2014 Nufri decided to begin construction of a new warehouse in its primary location of Mollerussa in the Spanish province fo Lleida.
To kit out this new warehouse with the storage solutions best suited to their needs, they turned to Mecalux, with whom they had already worked to design one of the three frozen storage centres that the company has on its industrial complex in Mollerussa, with a capacity of 9,000 pallets.
The main goal that Nufri set for Mecalux in their new warehouse project was to achieve maximum storage capacity without giving up direct access to the goods stored. This would mean that costs could be saved in terms of surface area for building, as well as achieving the greatest possible reduction in terms of volume required for refrigerated storage, consequently reducing energy consumption and the impact on the environment.
The new installation must also be suitable for a unique pallet size and shape without compromising the cold chain and the quality of production, using advanced techniques for refrigeration, preservation and storage.
Mecalux's Proposed Solution
Mecalux's baseline plan was as follows:
New warehouse building of 4,411 m2, of 93.3 m long, 47.3 wide and 13 m high.
Unit load: Drums mounted on pallets carrying four units, specially sized at 1,140 x 1,140 mm and 1,200 mm x 1,200 mm.
The need to maintain two separate storage temperatures: the ambient storage area and the cold storage area.
Taking this information into account, along with the customer's needs, Mecalux opted to install Movirack mobile racking of towering dimensions: A total of 38 mobile bases, 10.5 m high, and with two different lengths: 22.77 m and 19.95 m.
After adapting the racking structure to suit the dimensions of the pallets used by Nufri, the Movirack units were organised into three different blocks, thus optimising their capacity and functionality. The cold storage area is made up of a total of 31 mobile bases, arranged as one block of 16 bases each 22.77 m long and a second, parallel to the first, of 15 bases each 19.95 m long. In this way, the width of the warehouse is used to the fullest.
The third block has been installed in the ambient storage area, with seven bases of 22.77 m, completed with conventional pallet racking. With a view to the future expansion of the company, this third block can be easily extended to include an additional five mobile bases.
Since goods are stored in a compact position until the operator selects the aisle needed for work, and the racks open in a cascade formation, leaving just the necessary aisle open, just one aisle per block is needed to access goods. This means that this solution offers an extremely significant saving in terms of space and an increase in storage capacity of more than 50% when compared to an installation using conventional pallet racking.
Advantages for the Customer
Since opening this new storage installation in November 2014, these are a few of the immediate advantages Nufri has experienced:
High storage capacity: The Movirack installation allows for the storage of 11,002 pallets of 1,140 x 1,140 x 1,114 mm and 1,200 x 1,200 x 1,114 mm in 4,411 m2.
Cost savings: Nufri has been able to make savings in the cost of the floor space necessary for production, as well as in energy consumption, since using Movirack has allowed them to reduce the volume that needs to be refrigerated in the cold storage area.
Keeping the product in optimal conditions: The Movirack mobile bases include a parking mode by default. This means the space taken up by the aisle, when not in use, is distributed evenly between all the racks, setting them an equal distance apart, improving the flow of air in the warehouse.
Reinforcement of the brand image: Nufri's new installation is in line with the company's values, since it demonstrates their commitment to innovation, quality and sustainability.
Therefore, the storage project developed and implemented by Mecalux for Nufri has met and exceeded the company's original goals. Movirack mobile bases, adapted to meet the specific temperature requirements and measurements of the installation and load, have provided Nufri with the required increase in capacity, as well as adding value that will lead to greater satisfaction for their customers.
Mobile pallet racking Movirack
Length of racks:
Blocks 1 and 3: 22.77 m / Block 2: 19.95 m
Height of racks:
Highest level at 10.50 m
Number of Movirack units::
Block 1: 16 bases / Block 2: 15 bases / Block 3: 7 bases
Number of aisles:
1 per block
Aisle width:
4,700 mm
Number of load levels:
5 (base + 4)
Height of load levels:
2,550 mm
Number of bays per rack:
8 in blocks 1 and 3 / 7 in block 2
Warehouse temperature:
Cold storage in blocks 1 and 2 / Ambient storage in block 3
Other products installed:
Conventional static pallet racking
Unit load:
Pallets of 1,140 x 1,140 x 1,114 mm and of 1,200 x 1,200 x 1,114 mm, holding 4 drums
Total capacity of the installation:
11,002 pallets