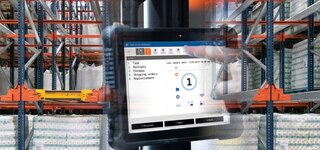 WMS & Pallet Shuttle Integration
A single user interface for managing your warehouse's WMS and the high-density Pallet Shuttle system
Contact our experts
WMS and shuttle management in one device
What should you do when you have run out of warehouse space? The shortage of logistics floor space nowadays means that many businesses require high-density storage solutions to increase the space they use to deposit goods.
With the aim of modernising their facilities and storage methods, logistics centres are gradually incorporating warehouse management systems and semi-automated solutions to ensure efficiency in their processes.
As a provider of comprehensive storage solutions, Mecalux offers multiple options for making the most of a facility's surface area. For companies that are in the beginning stages of modernising their warehouses, combining the Pallet Shuttle with the WMS is an ideal option.
WMS & Pallet Shuttle Integration is the advanced Easy WMS feature that streamlines and simplifies shuttle operators' tasks in the warehouse. By consolidating the shuttle management application and Easy WMS software in the same tablet, operators can receive detailed instructions from the WMS and, at the same time, control the Pallet Shuttle movements: depositing and extracting goods, counting containers and storing pallets in a compact way, among others.
Advantages of WMS & Pallet Shuttle Integration

Combination in a single screen of the management of WMS tasks with control of the Pallet Shuttle.
Intuitive interface optimised for use on the go.
Improved ergonomics for warehouse workers.
Cost reduction by consolidating, in a single device, features that required various terminals until now.
STREAMLINE PALLET SHUTTLE OPERATOR TASKS
Optimise Pallet Shuttle operations
The Pallet Shuttle is a high-density storage system that maximises storage capacity and speeds up pallet entry and exit cycles in the warehouse. This semi-automatic system consists of a motorised shuttle that enters the storage channels to load and unload palletised goods.
The electric shuttle is integrated with the high-density racking, which leverages warehouse space by eliminating aisles. Moreover, these structures adapt to LIFO (last in, first out) and FIFO (first in, first out) slotting and extraction criteria as needed.
The implementation of Mecalux's WMS & Pallet Shuttle Integration significantly facilitates operator tasks, thanks to its single, user-friendly interface. In this way, operators receive step-by-step instructions from the WMS on performing their tasks; simultaneously, they can control the Pallet Shuttle and view its status indicators (shuttle battery, automatic/manual mode and location method applied).
This system is especially useful in businesses with a high number of pallets per SKU (such as production companies and large wholesalers).
LIMIT UNNECESSARY MOVEMENTS IN THE WAREHOUSE
WMS & Pallet Shuttle Integration features
Facilitates management of the motorised shuttle and of the WMS from the same interface.

Controls Easy WMS and the Pallet Shuttle via the warehouse's WiFi infrastructure.

Notifies shuttle operators of their tasks.

Speeds up pallet entry and exit cycles.
WMS & PALLET SHUTTLE INTEGRATION ADAPTS TO BOTH FIFO AND LIFO METHODS
Testimonial
"We're thrilled with the Pallet Shuttle system and with the Mecalux Easy WMS software that runs the automatic shuttles. It's both comprehensive and easy to use. From its installation, the warehouse has produced excellent results."