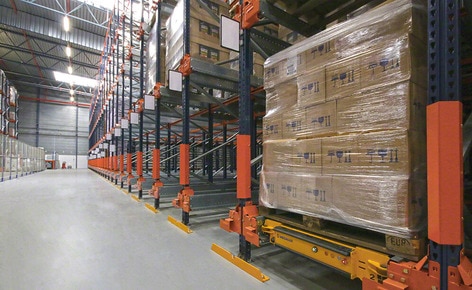 The French food and beverage wholesaler Firat Food combines diverse storage and transport solutions to optimise turnover and picking
Pallet racks, the Pallet Shuttle system and conveyors transform operations at Firat Food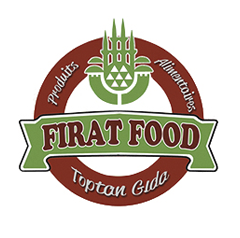 Firat Food, a food and beverage wholesaler, has reorganised operations in its French warehouse to streamline picking. Mecalux supplied pallet racking, the high-density Pallet Shuttle system and a roller conveyor, which joins the different areas that make up the installation.
The conveyor
Located on one side of the warehouse, it is tasked with the input of goods routed from the loading docks. Likewise, it minimises interference with the working aisles, where operators carry out picking.
The beginning of the conveyor coincides with the dock area. Operators, assisted by forklifts, insert pallets into the circuit, and the conveyor moves them to one of the two exit points enabled along its length.
The first of these –in the middle of the circuit– coincides with the block of pallet racks and is where lower demand reserve products are sent. Meanwhile, an underpass is set up that cuts across all the racks and facilitates operator workflows to deposit products in their locations.
The conveyor culminates in front of the block of racks facing the semi-automatic Pallet Shuttle system, which is set aside for consumer goods.
Pallet racking
Centrally, the warehouse has seven double-depth pallet racks installed and two attached to the wall; all are 9 m high. In total, the storage capacity amounts to more than 3,200 pallets.
As a bonus, these racks provide direct access to all products and aisles wide enough to speed up storage and picking tasks.
Pallet Shuttle system
The Pallet Shuttle is a high-density storage system that lets First Food insert and extract a huge number of palletised consumer goods quickly.
It works in a very simple way: the operators place the motorised shuttle in the corresponding channel, depositing pallets immediately into the first racking position and the Pallet Shuttle automatically offsets them to the first free location inside the channel. When removing the goods, the same operation is performed in the reverse order.
Control tablet
The installation is equipped with tablets which are used to send orders to the Pallet Shuttles. Each tablet can interact with all the shuttles in the warehouse, complying with a prioritised protocol.
Tablets let operators run many applications and functions, such as selecting the number of pallets to be extracted, taking inventory (counting the number of pallets available in each channel) or managing users and personnel authorised.
Advantages for Firat Food
Maximum throughput: the pallet racks, the Pallet Shuttle system and the input conveyor are used to tap into the potential of the warehouse and streamline picking.
Goods sorted: the products are distributed in the warehouse taking their features into account. Low turnover goods for picking are deposited in the pallet racking and consumer goods in the Pallet Shuttle system area.
Speedy inputs: the inclusion of roller conveyors provides fast input of goods flowing from the docks and lessens interference with other warehouse operations.
Firat Food warehouse: Conveyor
Transport speed:
10 m/min
Length:
42 m