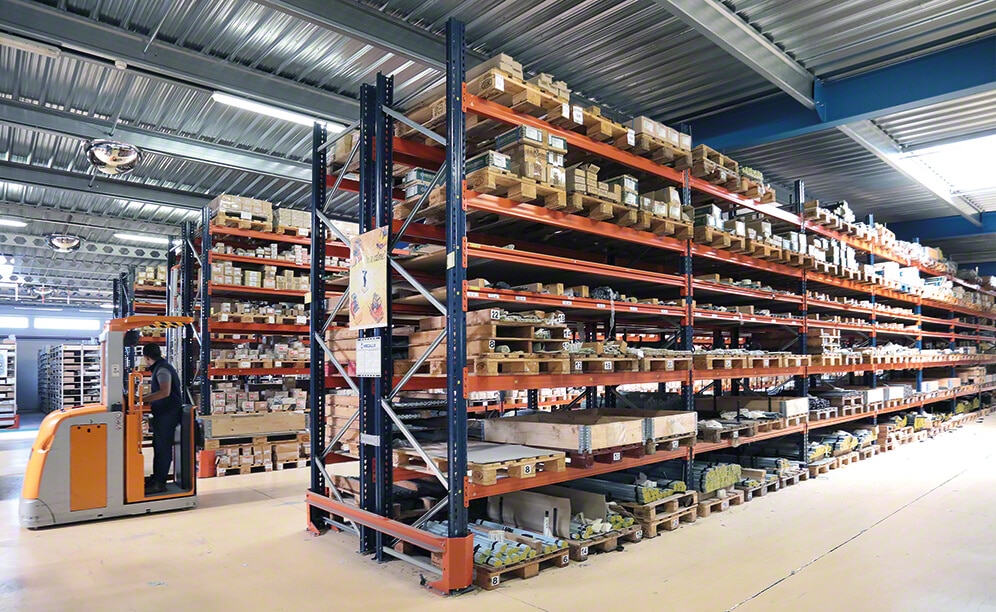 Pallet racking, drive-in pallet racks, mobile racks for pallets and picking, come together in the Société Provençale de Boulonnerie (SPB)
A multi-system combination for the storage and picking of 20,000 SKUs at SPB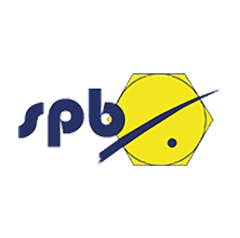 SPB, an enterprise specialised in hardware items, has equipped its Avignon (France) warehouse with various storage solutions: Movirack mobile racks, pallet racks, picking modules and drive-in racking.
Technical Specifications

SPB warehouse: Movirack mobile racking
Storage capacity:
2,400 pallets
Pallet size:
800 x 1,200 mm
Max. pallet weight:
1,000 kg

SPB warehouse: Other storage systems
Storage system:
Pallet racking
Storage system:
Picking shelves
Storage system:
Drive-in pallet racking

Download PDF
About Société Provençale de Boulonnerie
Created in 1982, SPB started out in a small premise near Avignon. Six years later, the company moved to an industrial zone in the city outskirts. In 1998, after experiencing remarkable growth, the company was compelled to relocate its logistics centre in the same area, where it currently has 7,000 m2 at its disposal. More than half of this surface is set aside for storage.
Nowadays, SPB's international presence grows stronger. To provision its vast portfolio of customers in different countries, SPB has a warehouse capable of managing more than 20,000 SKUs.
Different racking systems
The SPB warehouse comprises various zones where distinct storage solutions have been set up according to the stored product. In this way, they markedly reduce internal movements and use the installation's surface area to its fullest:
Picking shelves for medium loads
Pallet racks for heavy loads and picking
Drive-in pallet racking
Order reception, preparation and dispatch area
Pallet racking and picking shelves
In the pallet racks for heavy loads, located in the central warehouse area, picking is carried out directly from pallets or off the shelves. The upper racking level is used to store palletised reserve stock.
In the medium-duty picking modules, measuring 10 m long and 4 m high, smaller-sized products are prepared for orders. These are nine levels high with shelves.
The combination of both storage systems adapts to the wide variety of products SPB carries. These were distributed taking into account their demand and turnover, which allows for streamlined picking.
Movirack mobile pallet racks
They were supplied nine Movirack mobile racks and two stationary units at the ends. In total, 2,400 pallets of 800 x 1,200 mm are stored here that weigh up to 1,000 kg each. The racks are 8 m high and take up approximately 420 m2.
This high-density system eliminates aisles, all but the one required, and provides optimum storage capacity. Racks rest on mobile bases that move both laterally and autonomously.
Safety and control systems
To guarantee that the system functions properly, the block of Movirack mobile racks has its own control cabinet, as well as onboard cabinets in each of the racks.
The PLC is in the control cabinet, which is responsible for directing and processing movement commands. In turn, the power regulators synchronise the three motors in each base and soften start-up and braking to extend the life of the components contained in the racks (wheels, motors, guides, etc.).
The various handling equipment
Counterbalanced forklifts and reach trucks handle the pallets in the pallet racks and the Movirack mobile racks. The latter machine reaches the highest level of the Movirack mobile racks, which turns out to be ideal for this type of solution.
High reaching order pickers give access to products deposited on any level of the picking shelves. The operator can access the machine controls on one side and the pallet on the other, speeding up the extraction of goods. Moreover, pallet trucks are employed to handle pallets in short distances manually.
Advantages for SPB
Maximum storage capacity: the installation's surface is optimised with a mix of the different solutions, enabling the storage of more than 20,000 SKUs.
Direct pallet access: the storage systems supplied by Mecalux make easy access to any stored pallet possible.
A safe installation: the Movirack mobile racks come with all the elements needed to guarantee optimal safety for both the operators and the merchandise.
SPB warehouse: Movirack mobile racking
Storage capacity:
2,400 pallets
Pallet size:
800 x 1,200 mm
Max. pallet weight:
1,000 kg